Eight-year-old Rudi lives with his family in a flat in Frankfurt. Just a normal family … except that this is 1938, and Hitler's Nazi party is on the rise. And Rudi's family are Jewish.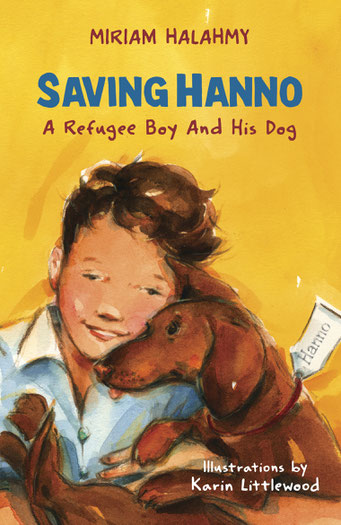 Miriam Halahmy has taken a huge and terrible moment in human history, and scaled it down to a size and treatment suited to readers of perhaps 7-10 years old. She's focussed Rudi's story on two aspects of the build-up to World War Two which particularly affected children.
Rudi, longing just to play with his friend and his dog Hanno, finds that life is changing. His nice teacher is replaced by a Nazi teacher who picks on the Jewish children. Rudi's dad has lost his journalist job. It's being made hard for Jews to get good food. And the threat is very much of worse to come. So Rudi and his big sister Lotte are put by their parents onto one of the Kindertransport trains to safety outside Germany. Hanno isn't allowed on the train, but Rudi is promised that the dog will be quarantined and will join him in Britain.
Rudi and Hanno start to settle into life in England (Lotte has it harder in another household), making friends, learning the language, and eating strange new foods. But then comes the second great threat to Hanno. The British government says that pets must be culled in order to preserve food for people when German bombing begins. 750,000 cats, dogs and other pets were killed. Rudi's nice foster parents intend to comply and have Hanno 'put down', especially since Rudi is about to be evacuated out of London to another home. So Rudi and his new friend decide they must save Hanno…
(Miriam Halahmy's novel 'Emergency Zoo' meshes with this story, focussing on the girls who set up the pet-saving plot that saves Hanno and other animals.)
This story can be read as an adventure about a boy and his dog. Or it can be thought about and explored and discussed as a rare example of historical fiction for younger middle grade readers. Why are those children having to wear a star that marks them out? Why do they all rip their stars off, and trample on them, when the Kindertransport train gets over the border from Germany to Holland? What must it be like to be surrounded by people talking a language you don't understand? If you've seen soldiers attacking innocent people, how will you feel when you next see somebody in military or police uniform?
This is a story about war and racism and being a refugee, about people going out of their way to be cruel, but also of people going out of their way to be kind. It's about how a big sister's love and a beloved pet can make all the difference when leaving parents behind. And it's beautifully illustrated by Karin Littlewood.