In October 2017 I wrote a poem about sadness, drawing on my own experiences of sadness, as a child and as an adult, but inspired by the incredibly beautiful and wise words of Etty Hillesum, a young Dutch Jewish woman killed in the Holocaust.
'Give your sorrow all the space and shelter in yourself that is its due, for if everyone bears grief honestly and courageously, the sorrow that now fills the world will abate. But if you do instead reserve most of the space inside you for hatred and thoughts of revenge-from which new sorrows will be born for others-then sorrow will never cease in this world. And if you have given sorrow the space it demands, then you may truly say: life is beautiful and so rich.' (Esther 'Etty' Hillesum (15 Jan 1914 - 30 Nov 1943)
I heard them first at a talk given at my church, and, four months after my dad had died, they really spoke to me. Some sadnesses can't be fixed, but we have to honour them - we can't deny them or push them away without doing ourselves or others great damage, and this works for peoples and nations who have suffered, and for individuals. I came home and wrote my response, sent my poem/picture book text to my agent, Anne Clark, she sent it to Templar, to Ruth Symons and Templar asked David Litchfield if he would like to illustrate it. He said 'yes', but he had lots of work to do, so I was told it wouldn't be published until 2021! It seemed an impossibly long time to wait, but we all knew that David was worth waiting for.
And now it is here, at last, published on the 21st January 2021. And David's illustrations are so wonderful.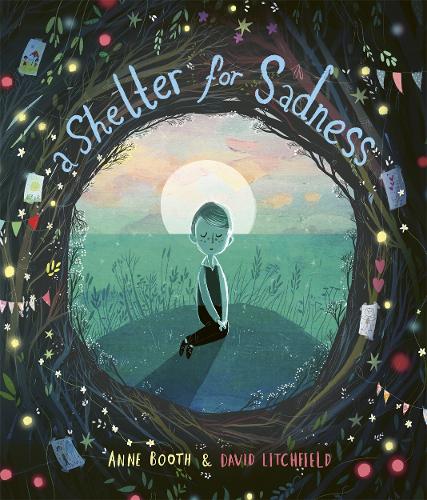 I must also acknowledge the wonderful design of the book by Genevieve Webster, and the editor was Alison Ritchie.
https://blackwells.co.uk/bookshop/product/A-Shelter-for-Sadness-by-Anne-Booth-David-Litchfield-artist/9781787417212
I had no idea back in 2017, that on top of all the other sadnesses in the world, there would now be Covid-19 and all the sadness caused by that, and lockdown and stress and unemployment and being apart from loved ones and bereavement and fear and anxiety, but I am glad now about the long wait for our book's publication, and hope that my words, and the beautiful illustrations by David Litchfield can be a help to children and adults, now and in the future.
And I hope that we can all somehow manage to build shelters for our sadness during this time, and find consolation in small joys, and that we can emerge at the end, and, even with our sadness, be happy again.